The world relies on efficient industrial output. With more than 900 employees, Utex designs, tests, manufactures, and distributes the high-performance, often custom-made sealing solutions needed to maximize uptime and ensure peak system performance.
HIGH-PERFORMANCE
MATERIAL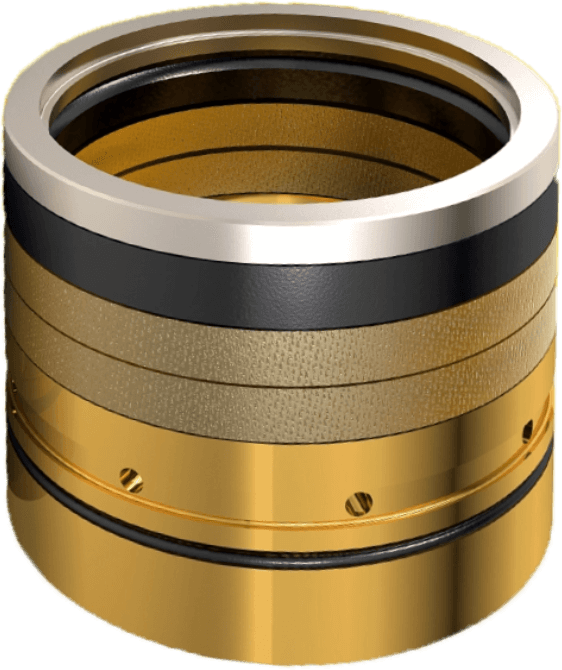 Well Service Pump Packing
Utex' SuperGold® plunger packing material offers enhanced service life for equipment operating in high-pressure, high-temperature environments. See why our high-performance well stimulation packing is a superior alternative to PTFE and other competitive materials.
Custom Seals for Every Application
MINING SOLUTIONS
Open-pit mining equipment generates extreme vibration that can damage connected components.
Utex' specialized vibration dampeners provide substantial vertical and radial stress relief.
WATER VALVES
Water and wastewater handling systems require high-performance fluid management hardware for optimal operation.
Utex' molded and bonded rubber components meet or exceed NSF and AWWA standards.
PACKERS AND FLOW LINES
Maintain downstream pressure and optimize the life span of hydraulic pump systems.
Utex' HPHT sealing solutions improve profitability and give operators more confidence with fewer disruptions.
The Utex Team — A Force for Innovation in Sealing
Since our humble beginning in 1940, Utex has been leveraging the expertise of engineers and material specialists to make stronger, more resilient, longer-lasting sealing components.
100% CUSTOM
SPECIALTY SEALS
Bring us your specifications, and we will develop a sealing solution that delivers optimal performance in virtually any operating environment. Rely on us to meet even the most demanding sealing challenge.
Utex stands apart as a true partner in the design and development of industrial sealing solutions. At the end of the day, it's our people who make the difference.
LEAD WITH INTEGRITY
We are true to our team, we are true to our customers, and we are true to ourselves.
Obsess Over Quality
Anything we manufacture needs to last longer and function better with the goal of maximizing uptime.
Have a 'Can-do' Attitude
From formulating a unique compound to designing a new seal, every problem is just a solution waiting to be found.
Energize Our Customers
We want our customers to be proud of using UTEX products, and we want them to have unwavering confidence in their decision to partner with us.
The most important thing Utex does for us is deliver a quality product and back it up with great customer service. Utex is not a 'sell it to you and forget about you later' kind of company.
OEM Supplier
Utex has worked with us to redesign our products to improve on existing OEM equipment. This has made our overall solution much more attractive in the marketplace, resulting in bigger business from much higher-profile customers. Utex is a development partner, not just a seal supplier.
OEM Supplier
At the field service level, Utex will do anything to solve a problem.
Well Services Customer
In working with Utex, I believe you pay for more than the products themselves. The people at Utex standing behind what they sell is just as valuable.
OEM Supplier
For the bigger, heavier, molded parts for oil rigs and blowout preventers, Utex products are superior and worth the price.
OEM Supplier
Utex has designed products specific to the application, and then they've gone out and had it patented. Other companies don't do that.
OEM Supplier
Utex is the 'Advanced Auto Parts' of the fracking industry. They have a solid reputation within the industry, which makes doing business with them much easier.
Well Services Customer
If you're looking for a high-performance sealing solution, your search ends with Utex. Get in touch today and tell us about your project.
Get the latest trends in custom sealing solutions directly to your inbox.